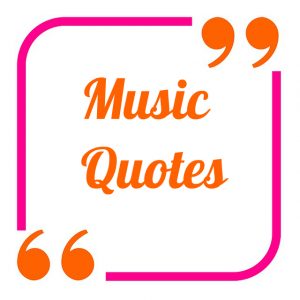 Music lovers adore everything and anything that pertains to music. That also includes great inspirational music quotes and sayings. A quote or a saying are words certain people have said which often times end up becoming famous or used by many. In the world of music, quotes and sayings are bountiful.  These tend to become popular as they're uttered by artists, composers or musicians. The quotes can come from every kind of music genre and people in and out of the music industry.
What Makes A Quote Great?
Even though most people do not utter a saying or a quote waiting for their words to be immortalized, this is what often happens many times. There have been numerous instances where artists or someone in the entertainment music industry has opined or said something and the quote ended up becoming famous. Still, in some cases, quotes about music were spoken by people who weren't even in the music industry. Singer-songwriter Bono, the lead vocalist of the rock band U2, is well known in the music industry. He once said "" Music can change the world because it can change people." The quote is very true indeed since songs and music can influence us in so many ways. Below are some of the best quotes and sayings which every music lover or people who love sayings can truly appreciate and enjoy.
Don't miss reading about The Health Benefits of Listening to Music
"The Earth has music for those who listen" – William Shakespeare
"Music is what feelings sound like out loud." – Georgia Cates, Beauty from Pain
Life is a song. Love is the lyrics.
People are like music; some speak the truth and others are just noise.
Music says things that words simply can't.
"Without music, life would be a mistake." – Friedrich Nietzsche
Family are like music, some high notes, some low notes, but always a beautiful song.
When the pain penetrates, the music resonates.
You are what you listen to.
"Music washes away from the soul the dust of everyday life." – Berthold Auerbach
When you are happy, you enjoy the music. But, when you are sad, you understand the lyrics.
My brain is 80% song lyrics.
Music says the words we're too afraid to speak out loud.
The function of music is to release us from the tyranny of conscious thought.
Lose yourself in the music.
I believe in music the way some people believe in fairy tales.
"One good thing about music, when it hits you, you feel no pain" – Bob Marley
"Music expresses that which cannot be said and on which it is impossible to be silent" – William Shakespeare
I love it when I hear lyrics that totally apply to my current situation.
Dear music, I will never be able to thank you enough for always being there for me.
Music Helps me escape from the reality I live in.
"Music gives a soul to the universe, wings to the mind, flight to the imagination and life to everything" – Plato
"Music is to the soul what words are to the mind" – Modest Mouse
Without music, life would be really really hard.
Ever wondered What Made Humans Invent Music?
Music & Quotes Soothe The Soul
For music lovers, music is everything. It is because of music that many of us are able to cope during the worst moments in our lives. Whether it is due to pain from a broken heart from a relationship, a loss of a loved one or anything else, music soothes the heart and soul. In the same aspect that music helps many around the world to cope with feelings and emotions, inspirational quotes and sayings about music can often do the same.