Users of Ambient Mixer use the online mixer to create all sorts of sounds for different purposes. Inside the audio mixer you will find a basic collection of simple and complex sounds to start with, which allow you to create different types of audio backgrounds.
In a strict sense, you will not only find what one could define as "sound" as a single sound or sample sound.  The preset sounds in the ambient mixer also involve complex sound groups that in themselves consist of several sounds. A beach background sound loads as a single sound, but it contains seagulls crying, the waves on the shore, some wind or other sounds.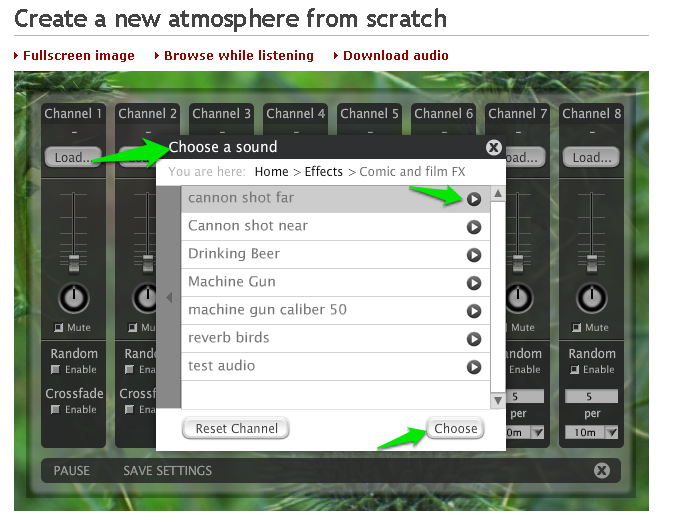 When starting to create a new atmosphere, it's advisable to have some basic idea about what kind of ambiance you want to produce. So, the first question to ask yourself is about the type of sound: Should the atmosphere include daily life existing background sounds? Or would you prefer nature sounds? Are you looking to enhance some game playing sessions with sounds for games? Are you just looking for some FX sound effects to illustrate a video? Or do you want to recreate a specific ambiance sound, like a cave, a beach or a fashion restaurant?
Once you have found an answer to this, the available categorization panels can give you a hint about what kind of sounds you need to accomplish your acoustic idea.
Anyway, you are not limited to the preset features of the ambient audio mixer. In fact, there are alternatives regarding where to get your basic sounds from.
Basically, you can opt for one or several of these choices:
You have the choice to use predefined sounds and samples that you can combine freely to an atmosphere
you can search for other sounds on popular sound sites
you can design your own sounds via recording, programming or using another software /synth / etc
An overview of the available sound presets
Once you have opened an empty template, you can start to choose you sound for each channel by clicking on "load". A small window containing the preset sounds will open and let you choose a sound for the track.
The sounds inside the ambient mixer are organized in categories and subcategories. You can surf in the presets by clicking into each category, which takes you to the next level. The database for sounds grows with users adding their own sounds. Every time users upload a sound, they have the option to do this under a creative commons license, which will make the sound available for other users as well. This way, free sounds uploaded by the ambient community can be chosen by other users. This makes the categorization not 100 % accurate. That means that you will need to search inside several categories to find some suitable sounds for your purpose, as you may find weather or insect sounds in several places.
(Click on the toggled titles to read the descriptions)
If you want to see how to handle an audio mix based on the integrated sounds of the Ambient Mixer sound database, just have a look a this  post.
Other sources of useful sounds on the web
Sometimes a user has a very specific sound in mind. Not always the preset sounds will match his or her needs.
To meet this case, the ambient mixer dashboard allows users to upload their own sounds. There are several big websites from where you can download all sorts of sounds for free.  You should always be keeping in mind that the files you upload have to fall under an open license and therefore allow the use of them.
In case you want to make your own private sound library, you can harvest other  sites to get your sounds for the mixer. Be careful to read the conditions on every site, as there are sites offering free resources with restrictions about uploading them on another place. Some really good sites offer free sounds you can use at home, but which you should not upload or make accessible outside these sites.
So to avoid problems, the best thing is to prior check about the usage conditions of each sound before loading it into your dashboard.
Findsounds is a free sound effects search engine, like a Google for sound. The site points to audio files hosted worldwide and you should check the copyright of each file before using it.
Freesound is one of the oldest and biggest sound libraries, as it collects sounds since 2005. It's a university open project, but still you should always have a look at each sounds license to check it's really public commons use.
Create your own custom sounds
If you don't want to stress yourself with licensing issues and plan to use or reuse you atmospheres in any way, the best option is to use your own sounds. Showing you how to design your own sounds will be a section of this blog. But anyway, you always can just record some stuff you like and it will be yours to do and use in whatever manner you choose.