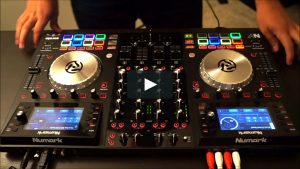 Technology has sure made it much easier for people in every walk of life. One of the sectors which is really benefiting from all the new technological advances is the music industry. Mobile phones and tablets have totally changed the ways we are now able to access, listen and share music. The same goes for the countless of applications now available for things related to music.
For decades, people have had to spend a substantial amount of money to be able to mix music or become a DJ. From turntables to crossfaders, the items needed for being a DJ or just practicing, were many. They were also very expensive and hard to come by. Luckily, all that has now changed with the explosions of mobile phones and apps.
Below are 7 music apps for mixing music that you can download and use to help you mix like a pro. These 7 apps can help you become your own DJ or at least practice being good at it. Some of the applications are only for Android while others are only available for iOS systems. A few are for both operatings systems as well. But you can find the one you like so you use them according to the phone you may have.
GarageBand – iOS
Cost: $4.99
If you want to mix, record and run your own studio, then the GarageBand app is a great place to start. The application has an easy to use interface and lets you start creating your very own music right away. There are real world instruments found on the app for you to use at the touch of your screen. Even if you are a novice, this app can make your music mixing experience something to be proud of.
Don't forget to also take a look at these 10 Great Apps Every Musician Needs
Edjing – DJ Music Mixer Studio – iOS, Android
Cost: Free
If you want to mix music without having to spend a lot of time practicing, then Edjing DJ Music Mixer Studio is the one for you. This great app makes sound mixing a cinch without much of a hassle. It also has an easy-to-use interface and many very useful features. You can loop, echo, scratch and flanger. For iOS users, Edjing has an option that lets you download tracks from the SoundCloud. You can even share the tracks you have mixed with your friends.
VirtualDJ Home – iOS
Cost: Free
Every aspiring DJ should have the VirtualDJ Home app on their mobile phone. This app has awesome controls such as loops, effects and crossfaders, among others. There is also a very useful tool that helps you check out how the mixes and beats you are creating matchup. The overlaying soundwaves feature is very helpful in case you are unsure of what you are hearing. With over 150 million downloads, VirtualDJ Home is a must have app for music lovers.
Tip – For Android users there is the Virtual DJ Mixer Pro which is very similar to this one.
Music Maker Jam – Android, iOS
Cost: Free
With loops from several different genres and a 8 channel mixer, the Music Maker Jam is a wannabe DJ's dream come true. This application is great for those just starting out. You can use some pretty awesome effects that are free. Extra features will cost you extra though, as it is with most free apps.
Studio.HD – iOS
Cost: $9.99
Apple users who want a shot at mixing tunes, can enjoy all of the great features that Studio.HD app has to offer. The app lets you record 24 tracks of audio. You can loop, mix, add effects and edit them according to your preferences. The edit feature has numerous options such as slicing, stretching, copying, cropping and pasting your tunes. There is one drawback to this app though and that is the price. It cost $9.99 to use since it is not free. But if you love mixing music, this application is well worth it.
Cross DJ Free-Mix Your Music – Android, iOS
Cost: Free
With an easy to use interface and tons of great features, the Cross DJ Free-Mix Your Music app is waiting for all mixers to use it. There is pitch changing feature that you will love. You can also loop and change the beats per minute on tunes as well. Although the app is free, the paid version has 15 sound effects and other cool features.
You may also be interested in 10 Ways For New Artists To Promote Their Music Online
MixPad- Music Mixer Free – Android, iOS
Cost: Free
The MixPad- Music Mixer Free is for those that want to be professional audio mixers. Or at least feel as if they are on their way. This application has tons of effects and features that will make you a super mixer. There are reverb compression, audio panning and other special effects for you to use.