The Ambient Mixer is a free online audio mixing tool with which you can create and edit your own ambient music or background simulations.  If you are not familiar with this site, you can read this tutorial to learn how to use this free online audio mixer.
Use without an account
First of all, the audio mixer does not require you to log in or register to use it.  As a simple unregistered visitor you can listen to all public atmospheres.
You can even change the settings of any atmosphere you like and continue listening to the music or sound as long as you wish or until you close the browser window.  This way you can arrange your own sounds without any need to sign up or register you email account. You even can download the track you just changed with your particular settings via the  download option using PayPal for checkout.
Create a free account for advanced uses
So, when do you need to create an account on Ambient Mixer?
If you want to create a new atmosphere or ambiance track or you want to save your current settings of any other atmosphere, you have to get a free account. In order to be able to get back at it whenever you like, you need to register with your email and create an account.
Once you have created the account you have access to all features of the mixer, you can create you own ambiances and you can upload your own sound libraries to the mixer.
Start to make your own sounds with the audio mixer
So, assuming you know the mixer, you like it and you have seen an opportunity for you to create your own mixes, you have decided to save your sound backgrounds and start mixing your own audio ambiances.  In this case you should create an account!
If you want to follow this first steps using the tutorial, just open the registration page in another tab, fill out the form and confirm your registration. That's it!
Ambient Mixer Dashboard
Once you are registered, start with a look at your new dashboard. This is your mixing central station. You will find here all the audio templates you have created, all audio files for sounds you have uploaded and a list of your favorite ambiances.  Just after registration it will be empty, of course.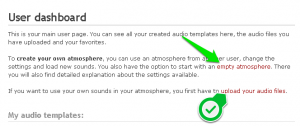 You now can start creating your own atmosphere. You can either use an already existing atmosphere created by another user and adapt it changing the settings and loading new sounds.  Or you can create a totally new atmosphere from scratch. For the latter you use the standard empty template (click to open it).
Here you will also find detailed explanation about the settings available: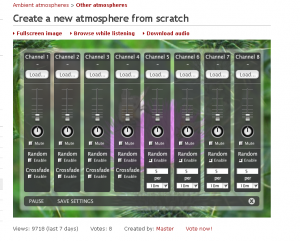 Start using the sound and music mixer
Creating a new ambient background track using our online audio mixer is very easy.
1. Load a sound into each channel
As you see in the template, there are eight channels you can use. This means, you can mix up to eight different sounds or loops you choose. For each channel you want to use, the first thing to do is to load it with the sound you want to use.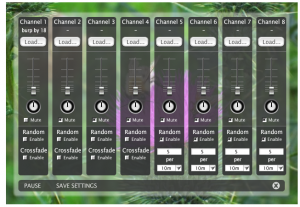 Click on the "Load" button to upload a sound into the channel. This will allow you to load a sound from our huge sample archive into that channel. Beware that there are many more sounds available as you might think at first sight. You find the sounds clicking into every item in the list and browsing through the categories and subcategories.
For further details, read this article with an overview of the available sounds.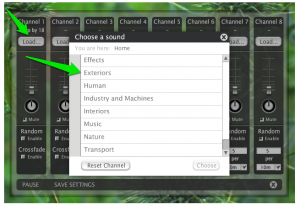 You arrive at the final sound when you see the little play button which serves to listen to the sound. If you like it, select it.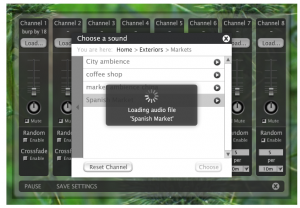 However, if you want to use your own sounds, you can upload them on your user dashboard page. Once you have your own sounds online, you can load any of your own personal sounds into the audio mixer.
2. Adjust the settings for each channel
After you have loaded a sound, you have the option to change the settings for this individual channel.
Volume sliders
With the volume slider you can adjust the volume of each channel.

Panning knobs
You can change the panning with the knob under the volume slider. This means, you can decide if the sound is louder on the right or on the left side, thus creating a spatial effect.

Cross fade check box
All sounds will start playing once they are loaded into a channel. And they will loop, that is, they start from the beginning once the reach the end of the audio file.

If you choose the option "Cross-fade", the end of the sound or loop with fade-in into the beginning of the same sound. This way, you can create a seamless repetition of your sound that does not disrupt your whole track with every repeat.
Random function
One of the unique features of the audio mixer is the random functionality.

If you check this option, the sound will not loop constantly. It will play over and over again with randomly pauses in between following the rules you define.  This way you nature sounds like thunder, the sound of a wave on the shore, insects, wind chimes or whatever you have chosen for this channel play randomly now and then.
You can control how often it will play randomly in a given time frame. So you can for example decide that this particular sound should be played only 10 times in 1 hour, or 2 times every minute, or 6 times in 5 minutes. This feature makes your atmosphere unique.
Mute check box
If you need some sound to pause during your mixing process, just click on "mute" and you will not hear it any more.

Thus you concentrate in the channel you are adjusting right now.
 My atmosphere is ready, what now?
Once you finish your new mix, you are ready to create a new audio template for it. A click on "Save settings"  will lead you to the template category page, where you can choose a category for your new track. The purpose of this step is to provide a meaningful category for your new mix.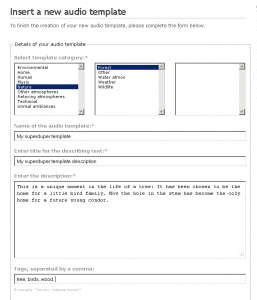 Add a suitable background image for your actual sound mixer
In the template category page you can also upload the image you would like to show for your track.  The best option is to use your own image. If you don't find or have any image you think is just the right one for your sound track, you can use any image on the web that is not protected by copyright.
One thing is important though: Your images need to be under the creative common's attribution licenses. You are not allowed to just grab the latest film poster you like unless it has been offered to the public for common use by the publisher.  So here you need to be careful, as we don't allow copyright infringement for images. If you can't find any suitable image, the default image will be used.
Once you have decided on the image you want to use or just left the default image, you can fill out the rest of the form fields.  If the image you have chosen has a bigger resolution that looks fine on a big screen, you can fill out the URL for the full image. This way, users can see the full image while listening to your track.
There are some legal implications in your track: The moment you want to share this track with the public, you have to agree to release the atmosphere under the Creative Commons Sampling Plus 1.0 License. This means you will let other users make their own versions of your track.
However, if you uploaded any sounds of your own that are not public domain or under the creative commons license, you are not allowed to share the atmosphere with the public. You then may use the track for your own pleasure by un-checking the box related to the CC licence ("Yes, I want to release my atmosphere under the Creative Commons Sampling Plus 1.0 License" button). This way, the usage of your own remixes keeps protected for your own private use.