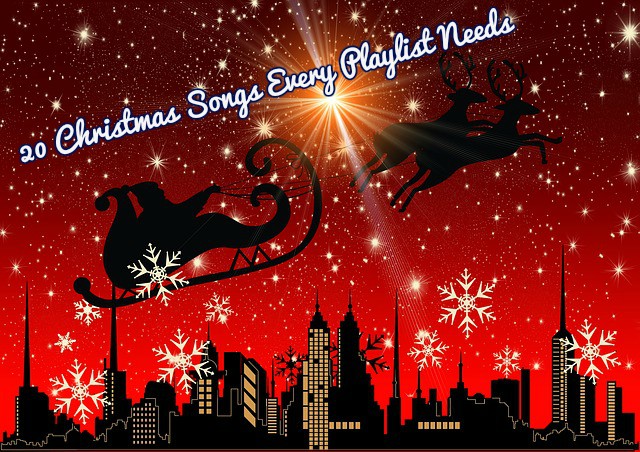 It's the most wonderful time of the year again and that means that it is Christmas. This is one occasion that has led to thousands of songs being created just for this worldwide popular event. The following 20 Christmas songs are some that every playlists needs or that you should have on your playlist.
There's something about the holidays which makes all of us feel more cheerful and wonderful. Perhaps it's because around this time we come together with distant relatives. We also get to give each other gifts and contemplate on the events of the past year. The truth is that there are so many reasons to love Christmas – especially for kids. It is no wonder that throughout history, so many different artist have written and sang songs just for this annual festival.
Below are 20 of the greatest songs ever recorded and produced just for the Christmas holidays. Chances are you may have heard some of them as you shopped these past few weeks. You may have even heard them on the radio or on TV shows and movies. Some of these songs are all time classics, others are new. A few are classics being performed by present prominent artist. No matter what, these are tunes that no Christmas playlist should be without.
"Have Yourself a Merry Little Christmas" by Frank Sinatra
Santa Claus is coming to town (Children version)
You may also want to read Warm Yourself With Fireplace Ambiences
Rudolph The Red Nosed Reindeer(Lyrics)
Silent Night – Beyonce
Nat King Cole – The Christmas Song (Chestnuts Roasting On An Open Fire)
Jingle Bell Rock – Mean Girls Movie Version
White Christmas – Bing Crosby
https://www.youtube.com/watch?v=GJSUT8Inl14
'It's the Most Wonderful Time of the Year' – Andy Williams
It's Beginning to Look a Lot Like Christmas' – Perry Como, The Fontane Sisters
https://www.youtube.com/watch?v=nmc9gfowJmk
Mariah Carey – All I Want for Christmas is You
Drummer Boy – Justin Beiber Ft. Busta Rhymes
'Winter Wonderland' – Bing Crosby
Hallelujah – Jeff Buckley
Rockin' Around The Christmas Tree – Miley Cyrus
A Holly Jolly Christmas – Burl Ives
Feliz Navidad – Jose Feliciano
Let It Snow, Let It Snow, Let It Snow – Dean Martin
Blue Christmas – Elvis Presley
https://www.youtube.com/watch?v=L9-PN1sftaI
Don't miss reading how to Relieve Stress Before Christmas Time
Santa Baby! – Eartha Kitt
https://www.youtube.com/watch?v=jFMyF9fDKzE