The holiday season is finally in full swing and it's time to really start getting into the spirit of the season.  Ambient Christmas music can go a long way toward getting you in the proper spirit.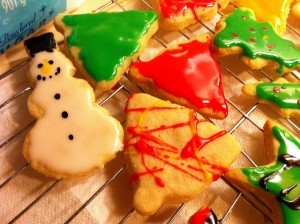 This could be thinking about the details of the party you're hosting, baking Christmas cookies, spending a few hours wrapping presents, putting up the Christmas tree or even selecting the perfect music to play while you spend the day cleaning your house in anticipation of the friends and family who will be visiting.
Here are some great ideas for ambient Christmas music that will set the perfect tone for the holiday event or activities you have planned for the day. There are some great tracks of Christmas inspired music available and you can probably find something perfect for every occasion. However, don't forget that you also have the ability to customize our ambient tracks.  If one of our tracks is almost what you're looking for, but it's missing the sound of a crackling fireplace, or your favorite bells, you can add them!
Santa Clause
Music inspired by Santa Clause is always a good choice during the holiday season and this is especially true if you have young children running around.  They would love to spend a day baking Christmas cookies or decorating the house with Santa Clause noises in the background!
Church Sounds
If religion is the focus of your holiday season, you may be searching for those types of sounds to play at home.  We have a great variety of church sounds that are sure to create the perfect atmosphere whether you're hosting a gathering for friends and family, or just looking for some background music while you wrap presents or read a great book.
Fireplaces
Some people love a great fireplace because of the warmth they provide, but others believe that the crackling sounds of a great fire is the best benefit of being able to sit in a room with a roaring fire.  Although playing ambient music that features a fireplace won't make your living room any warmer, it will definitely warm up your mood and make you feel like you're sitting in front of a roaring fire.  These tracks are especially comforting on those days when the cold wind is howling outside and you want to feel all warm and cozy inside.
Make Your Own
Another great option for Christmas music is to make your own.  This could be especially fun for Christmas Eve with the kids.  You can start with some great Santa-inspired music and then add the sounds specific to the night of Christmas Eve. This could include footsteps on your roof that sound like a mysterious red-suited visitor, reindeer-like animal noises and even the sounds of rustling paper (from all the presents). You might even include the sound of a roaring snowstorm if the actual weather outside isn't as Christmas-like as you would like it to be.
---
These are just a few of the ambient, Christmas-inspired tracks that are available.  Regardless of the specific sound you're seeking, chances are that you'll find it here.