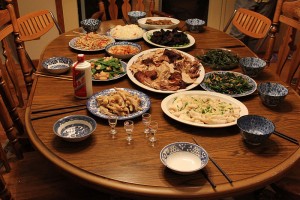 It's that time of the year once again where most of us will end up gaining at least 3 pounds over the weekend due to eating too much turkey and food from Thanksgiving dinners. Still, for most of us, it is well worth it because thanksgiving is a day when the entire family can get together. Most times, we end up getting together with family members you have not seen in years. Ambient-Mixer explores why Thanksgiving and music go hand in hand so well.
Who's Cooking Dinner?
We all love to eat the wonderful turkey, sweet potato pies, ham, salads and everything else that is served during thanksgiving dinners. However, unless you are doing the actual cooking, most of us take for granted how much work goes into making a thanksgiving dinner. One of the most time consuming dinners are the ones cooked during thanksgiving because so many different dishes are cooked and served. Many people actually divide the cooking among family and friends to make things easier. One will do the turkey while the other takes care of the Macaroni and potato salads and so on. So whoever is cooking dinner in your house or wherever you are spending it at, be thankful for that person and perhaps jot down some great tunes to help them during their cooking.
You should also read on hot to Get Ready For Fall Season!
Music & Chores Go Hand in Hand
Music is the great equalizer when it comes to chores. Millions of people all over the world do theirs while listening to music. Fact is that without music, doing things like cooking, cleaning or washing clothes can be a drag. It can also seem as if what you are doing is taking forever. However, if you listen to music as you do chores, you can dance, sing, hum or just think about the songs playing to make it all easier. Even thanksgiving has their own tracks or songs which many people listen to.  From famous musicals like "Oliver!" to old time classics such as "Count your blessings" by Bing Crosby, there are songs and music for every holiday.
Thanksgiving Playlists
While most of us might not really think much about it, those people who actually have to cook an entire dinner can appreciate a great music list for days such as thanksgiving. Add to the this the fact that cooking a turkey takes so many hours. This means that having a great song play list to listen to on this day is important. We recommend listening to The National and their "Thanksgiving Song". You also have John Lennon  with his song "Cold Turkey" and Japanther with "The Gravy" which is on many thanksgiving lists. For those that love classic Rock & Roll you have Chubby Checkers and his hit "Mashed Potato Love" and "Momma's Gravy" by the Calypso King and the Soul Investigators.
Having family over for thanksgiving? Read more on Ambient Music for your Board Game Evening
There are many other songs which were recorded for this holiday. No matter which ones you pick or like to listen to, having great music to listen to while you cook or wait for dinner is something no one should be without. So get ready to eat up and enjoy your thanksgiving dinner while you take advantage of some great music and thanksgiving songs.