By their very nature, each holiday we have has a specific focus. St Patrick's Day is all about having fun with your friends. The 4th of July is about fireworks, Memorial Day is about the beginning of summer and Thanksgiving is about a great meal surrounded by your friends and family. Valentine's Day is different. It's not about being with a big group of people. It's about being with someone special. That makes picking Valentine's Day music very important.
There are several elements that combine to produce the perfect Valentine's Day and you need to make them all merge together to make the day as special as you want it to be. The setting is important – are you going out to dinner at your favorite restaurant or planning a quiet and romantic evening at home. If you're going out, many of the rest of the details will be handled by your choice of where to go. However, if you're planning to stay at home, the details are much more important. This includes picking the right Valentine's Day music.
Picking Valentine's Day Music
More than any other holiday, getting this holiday right has a lot to do with setting the right tone through the ambiance. Sure, there are usually flowers and chocolate, but if you're celebrating this holiday with a romantic dinner at home, the right Valentine's Day music is absolutely imperative. Here are some of our favorites.
Relaxing Music
Sometimes, this holiday is less about the romance of the holiday and more about just being to able to relax with your significant other and spend some quality time together.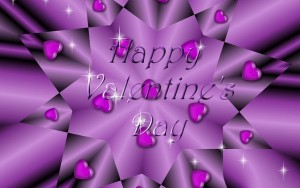 If this is your plan, you should consider some nice relaxing music that will allow you to sit together on the couch, relax and reconnect without the hustle and bustle of your regular lives. This kind of Valentine's Day music might be the kind you would hear at a spa. The sounds of nature might also be good choices, depending on your history and the things you like to do.
Romantic Dinner
If you're plans are for a romantic dinner for two, it's even more important to get the atmosphere correct. Ambient music inspired by romance is always a great choice. Of course, the sound of a crackling fireplace does a lot to set the tone for one of these dinners too and if you don't have a fireplace, here are some great fireplace tracks that can help.
If you like the fireplace idea, but prefer to have it accent the music instead of being the focus, you can always use our ambient mixer. This will allow you to pick your favorite ambient track, and add fireplace noises to it. Yes, you can actually create your own Valentine's Day music!
Dancing
Sometimes you might want to have dancing be part of your holiday plans. Again, if you go out, the music selection is decided when you determine where to go. However, if you stay in for the evening, you will need to carefully plan for your Valentine's Day music.
Here are some great ambient tracks that would be perfect for your at-home dance party.