We've talked a lot about using different kinds of music in your videos, but that raises the question of what kind of music can be used.  What kind of music can you legally use for your own personal projects? The answer is simple – you can't legally use music that you haven't purchased the rights to.
The Law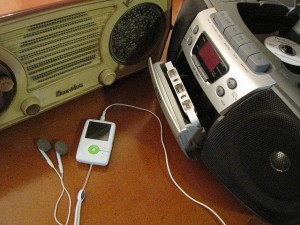 There are actually two different kinds of licenses you need if you want to legally use music.
Master use license
Synchronization license
The master use license is typically under control of the record company. This is the rights to use the original song. The synchronization license is controlled by the publisher. This is the rights of the specific version of the song.
In most cases, popular songs have been recorded and re-arranged by multiple people. If you want to legally use music like this, you will need both licenses. This gives you the ability to use the song as well as the specific version of the song.
One common misconception is that buying the song to add it to your own personal music library does not give you the ability to legally use the music. You have only purchased the music to listen to it, you did not purchase the rights to use the music in other capacities.
Whether or not you decide to use the music without purchasing the rights is a choice you will have to make. Much of that decision is based on what you plan to do with the music. If you are making a project that you plan to sell, you could definitely run into problems. However, if you are only making a video for personal use, it seem unlikely that you would be sued (although it is always possible). However, YouTube and some of the other more popular video sharing sites are becoming much more strict about including unlicensed music.
The internet is getting better at policing the use of unlicensed photos being used as new software is developed that can more easily identify the places these images are being used. It seems that restricting the use of unlicensed music is sure to continue to follow this trend and also continue to grow.
Options to Legally Use Music
Buy the Rights
If you want to legally use music in your videos, you can pay for the rights to it. However, in most cases, this isn't realistic. The song is either too expensive, or the publishers don't grant single-use rights to their music because it is too time consuming to review and approve.
Use Public Domain Music
Another option available if you want to legally use music is to use public domain music. This is music where the rights have expired, there were never any copyrights put on the music, or the authors have made their music part of the public domain.
Creative Commons
Another option to legally use music is to use music that has been licensed under a Creative Commons license. This is the licensing agreement that has been used for most of the music on the Ambient-Mixer blog.
This means you are free to use the music, but you must provide a reference to their name and give them credit when you use it.
We have a wide range of ambient music to pick from and you are sure to find the perfect music for your videos. Some of the more popular options are music from nature, different types of environments (like cities, countryside, etc), music that is perfect for promoting relaxation and music inspired by your favorite movies and television shows.