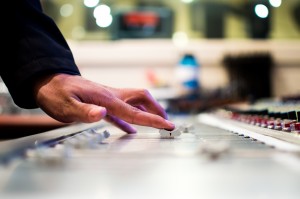 There are many different kinds of sound effects and royalty free music tracks available on Ambient-Mixer.com. You can use them to mix your own ambient atmosphere, choosing sound samples from many different categories.
However, sometimes, you simply can't find the one you are looking for. In an earlier article, we have already touched on the topic of uploading your own sound effects to use in a mix. We presented you with 5 websites with free sound effects and music. If you still didn't find what you've been looking for, we have 6 more for you!
The pages presented here provide you with royalty free music or sound effects that you are free to use in your ambient mixes, projects, videos, or elsewhere. Don't forget to give proper credit to the single authors and composers though.
CCmixter
CCmixter already has it in it's name; CC stands for "Creative Commons", and this is valid for all music pieces you will find on the site. CCmixter is mainly a site for music artists, providing a platform for collaboration. Musicians and singers can upload tracks and songs that are free to download for DJs, sound designers, songwriters, and other hobby-mixers.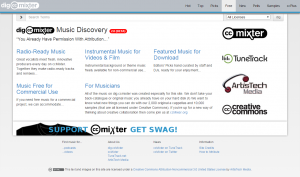 Every track featured on CCmixter is published under the creative commons license, however there are slight changes in permission, depending on the uploader. Thus, some sound samples may be restricted to use for commercial purpose. Otherwise, you are free to post, share, and distribute your created mixes freely – and also use them for your ambient mixes.
Under dig.ccmixter.org you can browse different categories and samples easily. While the main page seems accessible after registration only, this part is easily accessible via the link provided above.
Bensound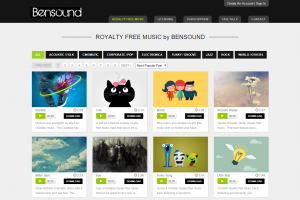 The name behind Bensound is Benjamin Tissot who creates music for different purposes. On this webpage, he provides musical pieces of different categories like rock, electronica, cinematic, and more – all distributed under the creative commons license. This means that the music can be used for all kinds of projects as long as proper credit is given. The possibility to obtain a pro license for different kinds of usage of Tissot's music is also given.
While the general remixing of the Bensound pieces is not allowed, you are free to use them for multimedia projects like videos and web applications.
The page is free to use and browse without an account.
Universal Soundbank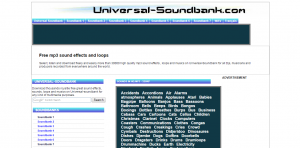 While the previous two entries concentrated on music and songs, the Universal Soundbank features sound effects from different categories. Ranging from a horse's whinny, over different kinds of doorbells, to varying percussions, the Universal Soundbank provides a wide selection of audio special effects.
No registration is needed to browse, listen to, and download the different sound effects.
EDIT: Unfortunately this service is no longer available.
SoundDogs
SoundDogs also features many different audio special effects, including human voices, vehicles and transportation, or sounds of animals. However, it also includes a big section with music from different genres like Blues, Country, or Tonal.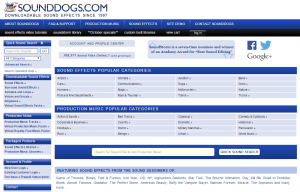 While it is necessary to pay for better quality and long sound effects and tracks, the samples provided in a lower quality are for free.
You don't have to register to browse the site and download an MP3 sample, however if you wish to purchase the musical pieces or sound effects, you have to create an account to be able to buy the sounds. To download a free MP3 sample, right-click on the MP3 symbol next to the sound effect and choose "Save link as…"
Jamendo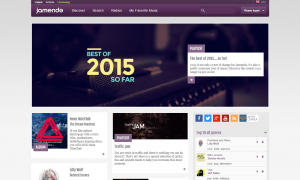 The last page on this list provides you with music tracks for mainly non-commercial usage. jamendo features different artists and music pieces of different genres that are free to download for private and non-commercial use.
Each song is marked with the particular license, thus making it easy to find ones you can use in your mixes since they are shared under the creative common license.
You are not required to create an account with the site. However, if you want to rate certain songs or add them to your favorites list, you will have to log in.