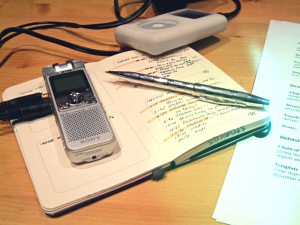 Podcasts are a new and creative way to broadcast your ideas, opinions, and stories to a wide variety of people, thus creating something like your own little radio show. Those series of shows can be distributed in different ways, even using PDF and eBook files; however, the most common way is to record a podcast as audio or even as a video.
When you stream your podcast live instead of offering it for download for viewing and hearing pleasure via iTunes, YouTube, or another site, you can even let people engage while you record. They can (skype) call you during the recording, or state their opinion using twitter or another messaging service.
However, listening to one (or maybe two) people talking all the time can become a bit tiring. Playing music like your favorite song in the background, on the other hand, can distract people from listening to you. So, what can you really do? Exactly, using ambient music and tracks that do not distract from your voice and story telling!
Using Ambient Mixes for your Podcast
Depending on the theme of your podcast, you can find a variety of non-disturbing background sounds to go along with it. Thus, the variety of music to use is as large as the variety of podcast themes out there. We have gathered suggestions for some possible podcast themes:
Sports
Sports are a great theme to talk about, especially since there are so many opposing teams and athletes out there so that opinions and views as well as insights can be very diverse and interesting. Instead of just discussing the latest game or fight or race, however, you can add some stimulating sport background sounds like the ones of a football stadium or sports bar. Set the right mood for your game commentary!
Reviews
Video Games
Next to popular "Lets Play" videos on YouTube, podcasts discussing new game releases or review of gameplay and graphics of old and beloved games are on a rising tide. Of course you can use the according video game score to underline your words, however there's a big variety of video game soundscapes that loop perfectly available for you to use as well.
Movies
With movies, it's almost the same as with video games. Using movie themed ambient atmospheres can add greatly to reviews of the newest movies or speculations about the development in certain TV series.
Books
Contrary to the first two review subjects mentioned, books do not come with an according soundtrack or score. This is where fan-made ambient sound mixes inspired by books and novels come in handy. They can set the mood for your review of new novels, old classics, or new books in a beloved series.
Current events / Politics
The last field to discuss is one that allows much more freedom and diversity depending on the current topic of your podcast episode. Music and relaxing tracks as well as those containing crackling fireplaces or the sounds of cities and nature can fit topics discussed in podcasts that deal with politics, current events, or just give an update on your every day life. You can surely find a bunch of fitting background mixes on this website.
---
You can either play the mixes in the background while recording, or even download them to implement them to your podcast when further editing it.