Most holidays have a pre-set type of party atmosphere that comes with them.  The 4th of July is all about outdoor picnics and fireworks, Thanksgiving and Christmas are about friends, family, sleigh bells and Santa Clause, and Halloween is all about ghosts, goblins, black cats and zombies.  But when you're looking for music for New Year's, it's a little bit different and much more difficult to pick the right kind of music.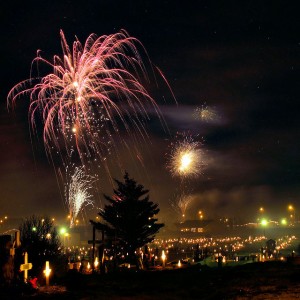 Picking music for New Year's is harder because there are many different kinds of get-togethers that happen for New Year's. You need to determine the specific kind of party you're going to have before you can determine what kind of background music you want to play.
Here are some of the more popular options you should consider when choosing music for New Year's activities:
A Full Blown Party
One of the more popular themes for a New Year's party is just that, the theme of one big party. This is when you have a bunch of people over to your house with the purpose of having a loud, joyous celebration with the clear focus on staying up late and just having fun. You might even want to take the next step and pick music that includes fireworks in the background if you really want to feel like it's New Year's Eve.
Romantic
Another popular theme for music on New Year's puts the focus on romance. This is especially true of new couples who may have exchanged romantic gifts over the holidays or just went through the sometimes tense ritual of introducing the other person to their family for the first time.
If you're planning to spend the holiday with your significant other, it's a great time to pick out some romantic music to play in the background and add to the ambiance. We also have some great ambient tracks inspired from love that would make a great choice for your romantic weekend. You also can't go wrong with ambient music that sounds like a fireplace in the background.
Times Square
Another option when you're picking music for New Year's is to make your party goers feel like they're in the middle of Times Square for the big countdown and ball drop. To do this, you can choose some music that replicates being outside and in the middle of a big crowd. This is a great way to make the people at your party feel like they're in the middle of the fun and excitement of New York City, without having to actually deal with the thousands of people, the really cold temperatures or all the traffic when trying to get home.
Quiet Conversation
You might also consider music for New Year's that works for a get-together that is a little quieter in nature. Many people prefer to bring in the New Year with just a few close friends getting together for conversation.  This works perfectly if you're not having a big, loud party and just want some relaxing ambient music playing in the background while you bring in the New Year a little more quietly.