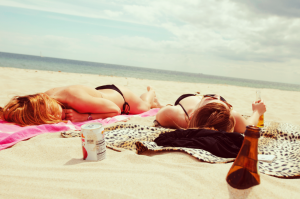 The weather outside is frightful. Snow, wind, rain, storm, hail, cold. At least in the northern hemisphere, the time between November and March is ruled by ghastly weather and low temperatures.
Time to escape into the sun! At least mentally.
When it's cold and dark outside, the thought of spending your summer vacation in the sun, at the beach, is sure to cheer you up. Make use of this feeling an prepare for your summer vacations this January!
Plan Your Summer Vacation
There are a few questions and tips you have to take into account when planning and, eventually, booking and preparing your summer vacation. The following list can function as a rough guideline for your planning. Ask yourself these questions:
When do I want to go? Choose a time for your vacation.
Am I free to go? Maybe you have to make sure that your free days have approval from your boss, or that your kids aren't at school at this time.
Where do I want to go? Everything got approved, now it's time to find out where you want to go!
How do I want to get there? Depending on your vacation destination that's a valid question. Can you go there by train, car, plane?
When should I book? Hotel and plain or train tickets have to be booked. Find out when's the best time to do so.
Is there something I need in my vacation destination? Going to another country, it may be that you need a plug adapter or that certain vaccinations are recommended.
How do I get ready? Make a plan to not fall victim to last minute hectic.
Choose A Destination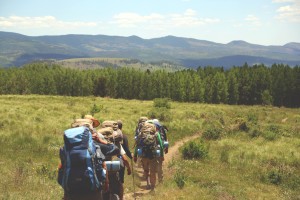 We can't help with choosing the perfect time for you to go, unfortunately, but we can help you to pick a destination. There are several things to keep in mind here as well.
What kind of vacation do I want? It can be relaxing or exciting, filled with sightseeing or just sit back at the pool.
What's the best place for that? A cabin in the woods, a hotel at the beach, a cruise?
Do I want to leave the country? Wellness-hotels, mountains, beaches – most can be found in your own country as well.
To answer these questions you can draw inspiration from almost everywhere. You can, for example, go to your local bookshop and browse through the travel guides and illustrated books. Surely, there will be more than one country or region that will call your attention.
If you don't want to go out, check out the "Vacation Ideas" boards and pins on Pinterest. Next to stunning images, you can also find great ideas, tips and advice for different kinds of vacations and destinations.
Inform Yourself
Once you have chosen a destination for your summer vacation 2016, it's time to gather more information about the country, cultures, customs and practices. Depending on the country or state you are visiting, preparations will differ from vacation to vacation. To give you a little hand, consider these things among others:
Different currency
Different power plugs (adapter needed)
Vaccination
Medication to carry with you
Proper clothes for weather/customs (incl. shoes)
Language guide
Furthermore, consider the right time to book your plane or train ticket and hotel. Depending on the destination, the best time to book could be between 276 and 47 days in advance!
Read more about how far in advance you should book a flight.
Make A Plan And Get In The Mood
Everything is planned? Good! Now, don't delay everything until the very last minute!
With a plan, you can avoid last minute stress. Take your calendar and mark important days like departure and last working day. Mark the last day you will be able to buy things you need for the trip, the very latest days for any kind of appointments, the last day you can do the laundry to wash things you may need and the like. And then? Schedule everything at least three days earlier! You never know what comes in between you and your plan, so better grant yourself that buffer.
Especially doctors appointments, bookings, registrations, and appointments with friends that need your keys to look after your pets or water the plants are important. Don't forget about these.
And once your plan is done? Take an imaginary trip to your dream destination already! Grab that illustrated book you bought, turn on these atmospheric ambient backgrounds, and dream away!