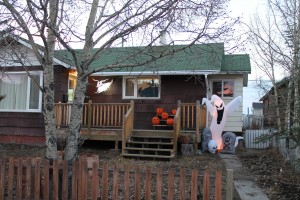 "Halloween is coming!"
October ends with a bang and with the creepiest holiday of the whole year: Halloween. For children this means going from house to house, asking for treats and threatening with tricks if they don't receive any. Of course the candy corn and chocolate bats are what these little witches and vampires really want, but if they know it or not, they are also out looking for a good scare.
There are many possibilities to creep out those little rascals. If you live in a house with a front porch they have to come to when they want their candies you surely are already planning your haunted porch since mid-September, right? Do you have the perfect musical background already? If not, we have some ideas for you.
Music For Your Haunted Porch
Of course, decoration is the most obvious thing to think about when planning a haunted porch or haunted house event. Do you have a theme in mind already? And: do you have the complimenting music already? Because next to the visual atmosphere, music and sounds of horror can generate the perfect set up for your haunted porch. So why not consider blasting some horror ambient mixes on your haunted porch this year!
If you have the possibility, hook up your laptop to speakers installed outside and complete your creepily decorated porch with different ambient noise or music tracks fitting your theme.
Zombies & Other Undead Creatures
Even before The Walking Dead came along, Zombies were popular with horror movie directors as well as fans. On a night like All Hallow's Eve, it could be more than likely that the dead crawl out of their graves to haunt the still living.
With a more traditional approach, you can decorate your house, front yard, and porch with tomb stones, ghostly schemes, blood, and creatures trying to break out of the soil of the earth.
A more modern take would be to give your home a more post-apocalyptic look. Here, you can easily draw inspiration from series and Movies like The Walking Dead or Day Z.
Fitting Ambiances:
But zombies aren't the only undead creatures you can allow to haunt your porch. Vampires (the creepy kind), ghouls, and other monsters should feel very welcome and homely on your porch as well.
Fitting Ambiances:
Prisons, Asylums & Dungeons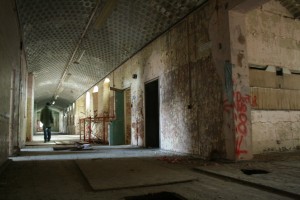 Less based on creatures but more on creepy environments, there are places that are predestined for a haunted house theme! Prisons, abandoned hospitals, asylums, dungeons, and dark caves are said to house lost spirits and unspeakable horrors. This you can easily use to scare trick or treaters this Halloween.
Metal bars, hospital equipment, blood splatters, different exhibits in green and yellow liquid, other slimy samples, chains, skeletons, and tons of spider webs should be scattered all across your lawn, yard, or porch.
Fitting Ambiances:
Witches & Wise Women
By now, we knew that the women who had been called witches in ancient times wanted to heal and help. But on Halloween, we rather want to remember the pictures of old hags with crooked noses, riding through the night on their broom sticks.
Fitting Ambiances:
(Were)Wolves & Haunted Forests
Other creatures that haunt the nights are less human than the witches, and not undead either. Hunting in packs, werewolves are no creatures you want to meet in the middle of the night. Or whatever other terrors a nightly forest may contain.
Howling wolves, glowing eyes in the dark, trees that seem to lung out for you, and the warning call of a watchful owl can cause a cold shiver to run down your spine – not only on Halloween.
Fitting Ambiances:
Other Halloween Soundscapes
However, these are just a few ideas and suggestion for your haunted porch. As long as it is creepy and scary, everything fits the most frightening holiday of the year! And to make it perfect, tune up some Halloween or Horror inspired ambient tracks, and no one will forget your porch haunting again!