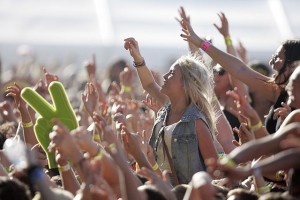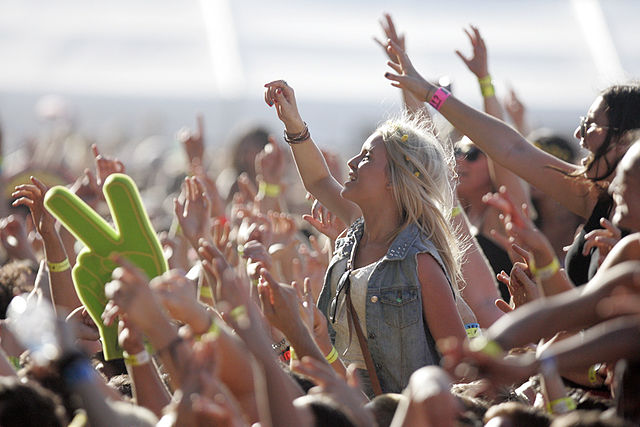 For everyone who loves music, we've got the list of the top 10 music festivals for spring 2016 right here. These music festivals cover all genres and numerous styles of music. Music lovers are always looking for concerts, festivals and performances which to enjoy one of the greatest things we have; music! Although you may not be able to attend all of them since they are taking place in different locations throughout the US and the world, perhaps there may be one near you. For those lucky enough to be close to one of them or to be able to attend any or (gasp) all of them, consider yourself lucky.
These 10 music festivals for this spring of 2016, are guaranteed to have some of the best and most popular artists and music performances right now. Also, most of them feature state of the art LCD Soundsystems and huge video screens. We have listed the festivals chronologically according to the dates of those events happening first.
Here is another event for those that love concerts and live festivals – SXSW: The Event All Music Lovers Should Know About
COACHELLA – 

Indio, California. –  Apr 15 – Apr 24.
People in California sure are lucky as far as having some really great music festivals to offer. The Coachella valley music and arts festival is our third entry for live events on this list taking place in the sunshine city. This event has become so popular though, that it needs two weekends just to be able to have enough space for all the performances. It also boast of one of the best LCD soundsystems in music festivals which revelers love. With a heavyweight lineup consisting of Guns N; Roses, Ice Cube and numerous others, this live event will surely be a memorable & unforgettable moment for those that attend.
LEVITATION – 
Carson Creek Ranch, Austin, Texas. – April 29 to May 1.
The Levitation music festival prides itself on quantity over quality as far as the line-up in performances is concerned. Still, this does not mean there won't be an array of many great artists and acts to see. Nevertheless, the main appeal to this event is their aesthetics. This may explain why some consider this a ride back to the 60 and 70's psychedelic eras.
MOOGFEST –  
Durham, North Carolina – May 19 to May 22nd.
The Moogfest, the Synthesis of Music, Art & Technology,  is a music festival held in Durham, North Carolina. It is named after the inventor of the synthesizer, Dr. Robert Moog and was initially designed to celebrate his creation. However, as festivals grow in popularity, they tend to add new acts and venues. The Moogfest festival features musicians such as Gary Numan and Laurie Anderson. The festival also combines the likes of Odesza and Grimes to attract younger electronic fans. At the same time, Moogfest teaches attendees about the many great musicians which pioneered the genres or helped to make them famous.
BOSTON CALLING 
– City Hall Plaza, Boston MA – May 27, 28 & 29
Billed as the only major music festival which grants women equal representation, Boston Calling is a great festival to attend. Featuring guitar based indie rock artist such as Courtney Barnett and Haim, they also plan to have radio pop artists such as Robyn and Sia. While the performance schedules are usually released a few weeks before the event, there is a guaranteed of fun and music. There will be many food vendors, merchandise and other activities to enjoy as well.
PRIMAVERA SOUND FESTIVAL – 
Barcelona, Spain – June 1 to 5th.
Yes, we know that the Primavera Sound Festival is held in Barcelona, Spain. However, it is considered by many to be the best festival in the world. This is not an easy label to achieve; especially when there are so many others all over the world and in the USA alone. Still, if you can afford to be there, you should by all means attend. With a juggernaut lineup of over a 100 performers, the Primavera Sound Festival is bound to leave an everlasting impression on those who are fortunate enough to attend.
GOVERNORS BALL – 
Randall's Island Park, NYC. – June 3, 4, and 5th.
The Governor's Ball, held in New York City, is one of those music festivals you do not want to miss if you can attend. With the likes of such big names such as The Strokes and Kanye West, it is the place to be in on those dates. There are also set performances by Eagles of Death Metal, The Killers, and Jamie XX. This makes Randall's Island a place where you want to be stranded on during the festival.
PANORAMA – 
Randall's Island, NYC – Friday, July 22, 23 and 24.
Although the Panorama music festival has not been out there as long as many other events featured on this top 10 list, the yearly event in NYC has made a name for itself quickly. Featuring a great LCD Soundsystem and artist such as Kendrick Lamar, Sia and ASAP Rocky, the Panorama event has become a festival circled by numerous New Yorker's. In a city as busy as New York, this is no easy task.
LOLLAPALOOZA –  
Grant Park, Chicago – July 28 to 31.
Not to be outdone by other major cities and their music festivals, Lollapalooza in Grant Park, Chicago is a must see event. Featuring artists such as Radiohead, Red Hot Chilli Peppers and a legion of many more, this festival will be literally rocking. Nothing compares to watching your favorite bands perform while being in the midst of thousands of happy, joy-filled music revelers as they congregate together.
OUTSIDE LANDS – 
San Francisco, California – Aug 5 – Aug 7, 2016
With a performance list which is nearly up to 50 plus acts thus far, and counting, the Outside Lands music and arts festival is one the echelons on the list. Anyone wishing to have a time of their life, needs to attend this awesome music festival. The only downside to this even it the lack of parking spaces which is why most are encouraged to use public transportation. This concept correlates the festivals numerous eco-friendly initiatives anyway. Just in case you cannot attend, the event is set to be streamed live on YouTube via the Outside Lands YouTube account.
FYF FEST – 
Los Angeles, California – Saturday, August 27, 28
No doubt the addition of the popular Kendrick Lamar will make the FYF fest the place to be this year. Held in both Exposition Park and the Los Angeles Sports Arena, the FYF Fest offers visitors two venues to choose from. Keep in mind about the lack of parking at these events though. Still, having the opportunity to come together and mingle with countless people who love music as you do is an indescribable experience. If you can, use public transportation to make sure you enjoy all of the great activities and performances the FYF Fest has to offer.
Are you ready for Spring? Then that means you will also need to Get In The Mood For Summertime!
Nothing compares to amalgamating in unison with hundreds of thousands of spectators in a festival or live event. Because of that, attending any of these events, if you can, is sure to leave an everlasting wonderful memory and experience for you. If you love music, live performances and famous artists, then make sure you find your way to one of these terrific music festivals.