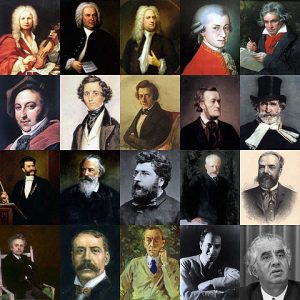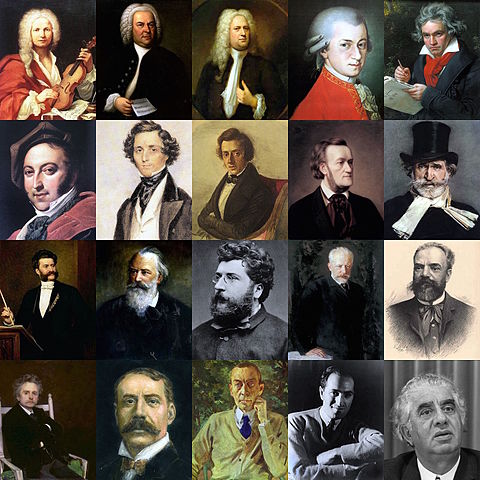 Music has been one of the greatest discoveries and gifts known to mankind. The benefits music offers to the heart, mind and soul are endless. Throughout history, there have been many music composers who have dedicated their lives to writing and composing some of the best music ever. This list contains the top 20 music composers of all time.
20. Hector Berlioz –
Born in December 11, 1803, Hector Berlioz was French romantic music composer. He is best known for his compositions Grande Messe Des Morts (Requiem) and Symphone Fantastique. In addition, Hector made significant contributions to the modern orchestra as well. He also composed about 50 songs in total.
Take a look at The principles of relaxing music
19. Dmitri Dmitriyevich Shostakovich –
This soviet composer and pianist was a prominent figure of 2oth century music. Dmitri Dmitriyevich Shostakovich was born on September 25th, 1906. He achieved his fame under the patronage of the Soviet chief of staff in the Soviet Union. However, he went on to have a difficult and strange relationship with the government later on. He was a poly-stylist with a hybrid voice. His many works include 6 concerti and 15 symphonies.
18. Richard Strauss –
Richard Georg Strauss was a German composer who was born the son of a horn player in Munich. Born on June 11, 1864, his works centered on romantic and early modern eras. Some of the music for which he is better known are operas such as Elektra, Salome and Der Rosenkavalier. His work 'Also Sprach Zarathustra' was used in the movie "2001: A Space Odyssey."
17. Gustav Mahler –
The Austrian late romantic composer Gustav Mahler, received much of his popularity by having his music banned by the Nazis in Europe. He was also recognized for his many contributions to the 19th century Austro-German tradition and the modernism of the early 20th century music.
16. Igor Stravinsky –
Igor Stravinsky was a famous author of the controversial The Rite of Spring. Born on June 17, 1882, he was also considered an influential Russian composer with more than 100 works. Some of Igor Stravinsky's famous works include The Rake's Progress and Symphony in C.
15. Frédéric Chopin –
From early on in his life, Frédéric Chopin knew he was born to be a composer. He began studying music at the age of 13. He possessed tremendous talent on the piano. He was born on March 1st, 1810 in Warsaw, Poland. This child prodigy completed his earliest works before the age of 20. He is also credited for changing the way piano was treated in music by pushing the limits with his play.
14. Franz Joseph Haydn –
Considered one of the most prominent and prolific composers of the classical period, Franz Joseph Haydn wrote 107 symphonies in total. In addition, he also wrote 45 piano trios, 14 masses, 26 operas, and 83 string quartets. He was born in 1732 in Austria and also invented the string quartet.
13. Franz Liszt –
This Hungarian composer did more than just write music. He was also a music teacher, philanthropist, arranger, virtuoso pianist and arranger; among other things. He was born October 22, 1811 and is considered one of the greatest pianist in history. He invented the symphonic poem and the developed the concept of thematic transformation.
12. George Frideric Handel –
Born in Halle, Germany in February 23, 1685, George Frideric Handel became the king's court composer in England later on. Only Haydn has more total hours of music as Handel wrote 315 altogether. One of his most famous works is the 'Messiah'. That oratorios is just one of the many he wrote throughout his career.
11. Antonín Leopold Dvorák –
This Czech composer achieved worldwide recognition for his numerous contributions to the folk music of Moravia and his native Bohemia. Born in September 8, 1841, Antonin was both a composer and organist. Some of his famous works include Symphony No. 8 and 9, Slavonic Dances, Requiem and Stabat Mater.
10. Giacomo Puccini –
Giacomo Puccini is widely referred to as the "Greatest Italian opera composer" after Verdi. Born in December 22nd, 1858, Giacomo's works were rooted in the traditional late 19th century romantic Italian opera. Some of his work include Madama Butterfly, La Boheme, Turandot and Tosca.
9. Robert Schumann –
Robert Schumann was not only a great German composer, he was also an influential music critic. Born in June 8th, 1810, Robert is widely regarded as one of the best composers of the Romantic music era. Some of his works include Symphonic Studies, Kreisleriana, Carnaval and Fantasie in C.
8. Giuseppe Verdi –
With many operas that still remain popular to this day, Giuseppe Verdi is considered one of the best composers of all time. The Italian writer and composer was born on October 10, 1813. Although he nearly gave up composing after his wife died, Verdi ended up composing some great Italian classical music. His works include Rigoletto, Don Carlo, La Traviata and Falstaff.
7. Johannes Brahms –
Johannes Brahms was born in May 7, 1833 and is widely regarded as one finest craftsmen in music history. The German composer, writer and pianist began his music career playing in brothels and bars. Performing in these places ended up fueling his knowledge of party and dance music. Some of his works include Violin Sonata in D Minor, A German Requiem, Hungarian Dances and Symphony No 1, 2 and 4.
6. Antonio Vivaldi –
Another Italian Baroque composer on this list is Antonio Vivaldi. Born in Venice on March 4, 1678, he was also a cleric, teacher and virtuoso violinist. Vivaldi is recognized as one of the greatest Baroque composers that ever lived. His compositions, totaling more than 500, consist of Le Quattro Stagioni (The Four Seasons) and Gloria.
5. Richard Wagner –
The German theater director, polemicist and composer Richard Wagner was a great composer. Many consider some of his opera music some of the best and most beautiful ever written. However, Richard was said to be a sexist, racist, undesirable and violent person. A few of his masterpieces include Lohengrin, Tannahauser and Der Ring Des Nibelungen.
4. Franz Schubert –
The Austrian composer Franz Schubert, began his musical career early by playing the violin and keyboard proficiently. He was born on January 31, 1797 and only lived for 32 years. However, during his short life, he was very prolific and wrote numerous works – about 600 in total. He also wrote 7 complete symphonies. Many people consider him the greatest songwriter of all time.
3. Wolfgang Amadeus Mozart –
Impressing everyone at an early age, Wolfgang Amadeus Mozart was born to play and compose music. At the age of 5, he had already mastered the violin and keyboard. Born in January 27, 1756, Mozart wrote about 600 works. The Austrian composer is considered the perfecter of classical music. Some of his works include Requiem Mass, Piano Sonata No 16 in C Major and The Marriage of Figaro.
2. Ludwig van Beethoven –
When it comes to the transition between the Romantic and Classical periods, Ludwig van Beethoven is considered one of the greatest figures. The German pianist and composer was born December 17, 1770. Many people see Beethoven as the inventor of Romantic music. His many works include the 5th Piano Concerto, Missa Solemnis, the Violin Concerto and the 5th Piano Concerto.
You may also enjoy these Great Inspirational Music Quotes
1. Johann Sebastian Bach –
With more than 1100 compositions written by him, Johann Sebastian Bach is considered one of the greatest classical composers of all time. The German composer, violinist, organist and violist was born on March 31, 1685. To his credit, Bach was born into a great musical family. He is best known for Fugue in D minor, No 5 i Allegro, the Brandenburg Concertos and Air on the G String.