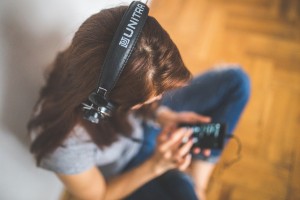 You love listening to music? Well, who doesn't. But what if we tell you that there could be more:
Spice up your music by adding background tones and overlays!
In this article, the team of Ambient-Mixer.com wants to present a different way of using ambient noise and background sounds to improve your experience of listening to music. Maybe you will like our examples or you find even better combinations while browsing our categories.
How does it work?
Well, it's easy:
Tune up your favorite song or playlist
Open an ambient mix that fits your mood, either on the web or on the mobile app
Listen and enjoy
If you are on a computer, using YouTube, Spotify, or your saved files to listen to music, just open the ambient mix that fits you in a browser window and tab. If you are using the mobile app, we recommend playing the music from your player first and then opening the app.
But what can you so? The possibilities are almost endless. To get an idea, we have looked around the page and checked user suggestions. Following, you will find some combinations that work just perfect for relaxing, studying, reading, or generally enhancing your favorite song's flair!
Vinyl Scratches
It's an effect sometimes used in music itself, but only very rarely throughout a song. Vinyl scratches and low tones can give you the impression of not listening to a track bought on iTunes but an old record you found in the attic.
Try it with this one: Under-track for iTunes
Hogwarts Library
What could be cooler than studying in Hogwarts? Add the sounds of the vast Hogwarts library to your playlist ans get out the books. Hermione will be proud of you!
Try it with this one: Hogwarts Library!
Fireplace
If you are not one of a few fortunate one, you do not have the luxury of an open fireplace in your home. That doesn't mean you don't have to miss out on the feeling! Mixed with some other background sounds and a howling wind, a fireplace ambient can transport you right into a cozy, snowed in cottage in the country.
Try it with this one: Fireplace reading with a cuppa
Rain
Wind, rain against your window, a good book or perfectly prepared study guide — what else do you need? The weather isn't always in our favor, but if you like the sound of rain on the roof while you are studying or cooking, then rain and (thunder) storm background noises will give your music an extra boost.
Try it with this one: Ultima Rain
Cats
While dogs may be 'men's best friend', cats have an undoubtedly relaxing effect. No matter if you pair up a cat's purring with rain, a crackling fire, or any other combination of ambient noise you like, you instantly feel less alone.
Try it with this one: Comfort
Beach
Vacation is always a happy time. You don't have to get into a plane and fly to far away places to get some relaxation. Seagulls and the sound of waves clashes against the shore can turn almost every song into an instant 'summer hit'. 😉
Try it with this one: Beach Vacation
Get creative!
Those are just some of our favorites. But your imagination shouldn't end here. Add a creepy or futuristic touch to your favorite songs, or spice up your music with some nature sounds.
Tell us your favorite combination!