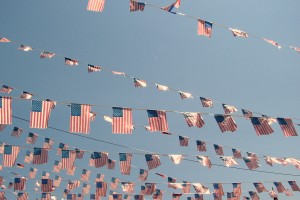 The month of July is already knocking on the door, and that means that one very particular (and very patriotic) holiday is coming up:
Independence Day
More commonly known as the Fourth of July, it's the day to celebrate the adoption of the Declaration of Independence back in 1776, and thus the independence the United States gained from Great Britain.
We are pretty sure that we do not need to tell you about this federal holiday, however we have some atmospheric tips and recommendations for you and your Fourth of July party.
Picnics and BBQs
Picnics, BBQs, or any other outdoor get-togethers are held throughout the US. Friends and family get together, eat, drink, laugh, and celebrate. It's a great way to have some days off to spend with your friends or relatives that you do not see that often. Whether some may prefer the privacy of their own home and garden, picnics are often held in nature as well, just like local parks become popular spots for smaller BBQs and celebrations.
If you host your own Fourth of July BBQ, make sure to provide a great atmosphere for all your guests. Decorations and great food are just as important as a nice and fitting musical background. Ambient music can easily be used since it can portray and convey a certain mood and is likewise not as disruptive so you can still have conversations with your guests.
Furthermore, ambient background sounds aren't considered as annoying, so even blasting them from your portable radio when out on a BBQ or picnic at a park shouldn't pose any problems.
Parties or Relaxation
If you do not want your own get-together, there are surely a lot pf parties in your area. Check out local listings and posters. Especially beach parties are a fun way to celebrate in the hot weather.
However, some may also take this holiday to get some time away from everything. Celebrate with a selected few people or spend the day relaxing in nature or the silence and peace of your own home. You can still go out in the morning or evening. Some relaxing music ensures that you find the calm and tranquility you need to get away from the stress of the previous days.
Parades
In the morning of July 4th, it's quite common to attend one of the many parades that celebrate the States' independence. Gather your family or friends, and join the crowd watching the local parade. It's always nice to see your city center or part of the town nicely decorated in red, white, and blue. Besides, sometimes, being part of a whole crowd, cheering for and celebrating the best cause is the best way to feel like belonging to a community – or in this case, country.
Our tip: If you are in New York, make sure to watch the Travis Fourth of July Parade
Fireworks
What's the best about the Fourth of July though – despite being off work and school – are the fireworks in the evening. If you are in for a special experience this year, book a short trip to New York to enjoy the huge fireworks blasted into the skies in the evening. However, other major displays that may be in your area are in Chicago, San Diego, Boston, St. Louis, San Francisco, or Washington D.C.
If you are not willing to watch a firework with thousand others in a crowded city, however, you can still host your very own private ones – either in addition to your own party or BBQ, or just with  few loved ones invited. As long as you keep in mind all fire security precautions, there should be no limit to your own private fireworks fun.
Our tip: Check out if there's a lake nearby with a nice sandy or grassy beach. Firing rockets from the middle of a lake or the other side creates an even more spectacular view than doing this on an open field.