Relaxing videos with music are great but finding free footage for music videos can be quite a task. Recently we published a post about where to find images for your space ambiances at ambient-mixer.com. This is great when using the ambiances while sitting at your computer.
Once you have mixed your ambiances at will, the time comes to enjoy and give use to it. Among other alternatives like listening online or over the phone you also have the option to download the track. If you copy it on your smartphone or mp3-player, there is no need to any other action.
Once you get the mp3 track there is no problem to use it as audio footage for video. Maybe you want to mix audio and video to play relaxing pieces on your TV while you take a nap. But if you want plug it into your TV, you may miss something on the screen. Just because you are used to have images moving on it.  In this case, you may want to make a video with your music and some nice images. Now the problem arises that you may only want some standard or simple video footage to have something on the screen while listening to the tracks and don't want to spend lots of time recording and editing your own videos.
But how about finding free footage for music videos?
First option is just to make a nice slideshow and use it as background video for your ambiance. Next option is to grab your camera and just film on your walks anything that you like looking at, a nice landscape, a park, your dog … anything. The last option is to use some video footage that match what you have in mind with the music. That will be as diverse as users are, one prefers some beautyful landscapes, other will prefer a family video and other some space videos. So the question again arises where to find free videos you can use.
There are tons of video footage websites where you can buy royalty free videos. In general, clips are short and quite expensive for a simple homemade video. If you don't aim to produce a documentary film for TV but just a nice background for your porch siesta, you will prefer to go for the free stuff.
Public domain video footage from goverment sources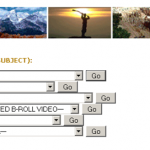 Fortunately there are public domain sources of high quality where you can find stuff for free. Similar to the sources for public domain space videos, some very nice nature videos are found also from a goverment agency. The US National Park Service has published video footage based on nature park recordings where you will find ocean shores, lakes, woods, forests and meadows to fill your videos. They are not of HD or superb quality, but for home users it is quite fine. I have tested a relaxing video with this and it was ok for listening and just having a look or two at it once in a while.
Another good video source can be the videos in the internet archive. The problem here is that many of their videos are not very suitable for what we think is relaxing, but with enough search effort there may be some success in finding a useful video. You have to get used to the site search, as it is quite complicated to get through all options. But here is a typical search example for nature videos (link).
Videos from community sites and creative commons license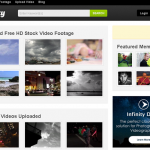 Videezy is a video community where video creators offer their free video stockage  for download and sharing. The clips are HD and free to use for your own projects under a creative commons license or public domain. As always, for private use no problem, for other uses you have to read carefully each license notes to avoid problems. Most of them are not long, just about 1-2 minutes, so you will need some to make a collage for longer videos.
Just there in Videezy I found another source: http://www.beachfrontbroll.com/, where you can also download free video footage with creative commons license.
Flickr is a good source for videos too. Of course, Flickr has much more images, but you can find nice videos there that too are published under creative commons. Just start a filtered search like this and browse the result pages. You will find some really good stuff, although there is a little downside in the fact that the videos are short and last a maximum of 90 seconds. But Flickr is a good source to remix videos. If you publish them on your blog you will need an attribution to all parts, but just for home use you can mix and remix at will.
And of course it's always a good idea to have a quick search at wikimedia commons , as there are many hidden treasures also for small video footage. Videos are often more or less hidden among all other jpgs and media files when you search for a term, but often you find some really nice video footage. But it's like fishing for a needle in the proverbial hay. By the way, they also list other sources for video material here, https://commons.wikimedia.org/wiki/Commons:Free_media_resources/Video.
And last but not least, the mother of all video sites, YouTube, has many videos under cc-license that you can mix and remix for your own creations. Just check their Copyright-FAQs.
You should think that often the audio of these videos is under copyright, so be sure the first thing you do before uploading somewhere is to delete the original audio track and add your own music.
Royalty free videos for download
There are lots of sites promoting royalty-free video footage. Most of them offer their services to filmmakers and photographers that use the site to monetize their spare footage. Many of these videos are short HD clips that could be used for commercials, presentations and this sort of things. As this kind of videos may be expensive for private users. There are lots of other services there, some offer freebies as a complimentary service to their regular paid stuff.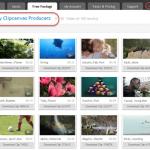 Free Canvas offers free footage for registered users. Registration is free. The videos are of good quality and each free video specifies the attribution or release conditions. In most cases there is no release required. In any case, if the only place where you are going to load your video is your living room, you can feel relaxed in every way.
In order to produce relaxing videos with music you can arrange a nice track with ambient mixer, download it and use somepublic domain videos to edit it. Once this is done, you can either share the video in channels like YouTube or Vimeo, or use the file for your own pleasure on your computer or a TV.
Now all you need to do is to enjoy the video on your screen while you slowly dive into your dreams, thoughts or meditation.