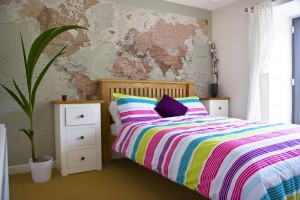 Home is a place of sanctuary, of calm and freedom, and a place where you set the rules and shape them in any way you like. Just like you shape your home or room itself! Furniture, decoration, patterns, fabrics, material, colors – everything is your own choice and reflects your own liking. One great way to do so is the use of photographic wallpapers, but it doesn't end there!
To create the perfect atmosphere fitting your set up for your room interior and photographic wallpaper, you can always add some background sounds fitting the theme of your room or decor.
Following, you will find some inspirations for musical background based on different photographic wallpaper themes.
Animals & Nature
A very popular theme for photographic wallpapers is everything that has to do with nature. A solemn tree on a meadow, a lively rain forest with different colorful animals hidden in the leaves, or the intense stare of a bald eagle – natural scenery or animals can give a room either an exotic, wild, or calm touch.
Plus, there are so very many themes within to choose from!
Water
Water themed rooms are dominated by the color blue, maybe with hints of green and bright and colorful spots that could represent tropical fish. No matter if you like a rainy theme more or prefer a beach or riverside scenery, the sound of gurgling streams, rain storms, or beach waves go along well with a water themed room.
Savanna
From cold to very warm colors, Savanna's and more Africa inspired themes contain of many yellow, orange, and red tones, making a room look warmer, welcoming, and exotic. Zebra or leopard printed fabrics and dark wood can be complemented by the sounds of African wildlife.
Jungle/Forest
Full and rich green tones are an important part of jungle or forest based interior themes. Raw wood, natural material, and the sound of chirping birds and wind in the tree tops complement any forest themed room. If you want to add a more wild touch, you can go for a jungle theme, adding the sound of monkey chatters.
Ice & Snow
Maybe the calmest scenery of them all is a landscape that is covered by a thick white blanket of snow. All kinds of disturbing sounds are drowned and a feeling of calm and relaxation is left behind. White fabric and icy glass may seem a bit sterile though, so why not "pimp" the theme with some specks of a warmer, orange or red color?
Cities & Landscapes
New York, Hongkong, London, Sydney… Skylines or famous landmarks are popular and stylish themes for photographic wallpapers, bringing the flair of your hometown or the feeling of an exotic and far away place directly to your home!
Different city background sounds make you feel as if you are in the middle of Times Square, standing underneath the Eiffel Tower, or walking the busy streets of Tokyo.
Space
Science Fiction fans will find more liking in decorating their place in darker colors dappled with many light specks representing the vast endlessness of space. All kinds of colors can find their way into a space-themed interior, together with metal furniture and dark leather.
Fantasy
Less technical and yet not less imaginative are photographic wallpapers with a fantasy theme. Nymphs and fairies, dragons and ogres, sword fights and fantastical landscapes – all kinds of colors, patterns, and fabrics fit a home decorated in a more fantastical style. Sounds of a medieval market or a dragon's lair complement this quite nature based theme.
Children's Wallpaper
A child's room should sport happy and vivid colors, soft material and fabric, and an overall joyful atmosphere. Thus, photographic wallpapers for kids are mostly drawn or show cartoon scenes. The themes vary from wild jungles to colorful underwater scenes. Or maybe a circus or superhero themed room may fit your child's taste?