Back to School!
A sentence that is, mostly, greeted with very mixed feelings. Instead of focusing on the workload, sleeping schedule and responsibilities that have to be adjusted for the new year of school, we will have a look at why it's not all that bad that school is starting again.
Why Going Back To School Isn't Half As Bad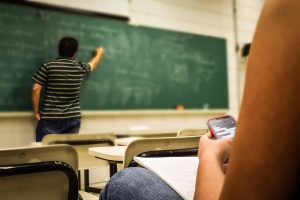 Do we really have to state the reasons why it's a happy time for adults when their kids are out of the house again, at least for a couple of hours per day? Surely not. And even if you don't have kids yourself, the decrease of children hanging around your street, park or general area is evident. And, admittedly, after one or two months of summer holidays, we need that calm time.
But even if you still have to attend school, going back is not half as bad as you may think. All your friends are back from summer vacation and you can enjoy your time with them again – despite class attendance, grumpy teachers and tests. Boredom is drastically decreasing and you learn to value the time you can spend outside of school anew.
Besides, most TV series chose the start of school as the start of a new season. They also waited until the summer break was over, apparently, to cater new episodes, seasons or even completely new series to us. For example, American Horror Story, Gotham and The Big Bang Theory re-start early in September with The Simpsons and Once Upon A Time following a bit later on. In October, The Flash and Arrow return as well as the fan-favorites Supernatural and The Walking Dead.
This sounds anything but bad to us, especially since we already finished the newest Orange Is The New Black and Stranger Things already.
Make The Best Of It
Just another year of school? No! Make this year your year!
Who says that New Year's resolutions should be for the new year only? Maybe it's time to make a resolution for the new school year – and stick to it. It can be anything, really:
Joining a club
Finding new friends
Attend at least one game of your school's team per month
Improving your grades
Making your homework somewhat in time
No oversleeping
Whatever it is you decide to do, make sure to get the most out of this year! And if improving you grades or becoming more calm and relaxed is part of your resolution, we have some more, great tips for you: